The River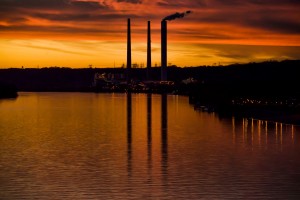 .
1.
A great bronze god
This morning
Swollen and muddy,
Slowly silting down,
Muscles rippling like some
Giant water stallion,
Moving past Broadway, past Elm
Past the geese at the floating marina
Past the stacks of the monolithic power plant
Past all the bare and sunken trees
To list round the bend at Hanover,
Moving his way on down to Louisville,
New Albany, Evansville, Memphis, Cairo, Mississippi!
Carrying the weight of thousands of lives.
The dead are with him as well as the living:
Dead logs and dead bones,
The ghosts of those who perished in his flood
In their perilous leap toward freedom,
Ferried long ago from Milton's shore
Or Indian Kentuck by reckless boatmen,
Indiana Charons rowing their dark
breathing freight
to Elysium.
2.
The beginnings and endings
Of all things tucked
Within your liquid furrows,
Your deep rollings,
As church bells toll you
On your cyclic way
to a shared oblivion:
Hart Crane's great wink of eternity,
Whitman's mighty I-am-Thou
Shine with the sun
On your burnished surface
Issuing forth vague promise
Of some hidden covenant to come,
Some secret bargain
With forces unknown;
And one day all will be revealed
As the prophet saith
When the weight of all this water
Unseen and teeming
With life and death
Comes at last to rest
In the dropless one-time silent sea.
.
As a poet, I am fascinated by the metaphysical, mystical, and metaphorical nature of rivers in general and the Ohio River at Madison in particular.  From my home, high on a hill overlooking the Ohio River and downtown Madison, I am able to experience the daily changes in the relationships and moods of the river.  Our lives are rivers of events and encounters, floods and lulls, twists and turns on the way to the one-time drop-less sea of eternity.
Featured Photograph:  Indiana Sunset  by  Bernie Kasper
Walking the bridge has become the new pastime for many downtown Madison Indiana residents.  It is a photographer's dream location with so many fascinating subjects you are able to capture, from the power plant to the barges and boats that navigate the river below. — Bernie Kasper
---