Prologue: The River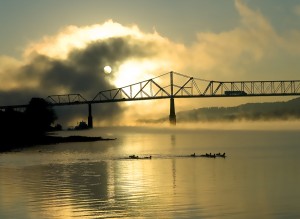 The Iroquois called you O-he-O,
the Wyandot the Oheezo,
which some took to mean "sparkling,"
others "white," while the French
took it to mean "beautiful" :–
La Belle Rivière, the beautiful river
they called you and they were right,
at times you are white,
at times you sparkle
like diamonds in the sun,
and you are always beautiful
in all your moods – muddy brown
from spring rains, or placidly green,
silver flowing water,
bringing life and death
to all who live and grow
beside your thousand mile length
three centuries ago or today
cascading down from Allegheny
and Monongahela confluence
sliding by stone age huts
and Adena conical burial mounds
high up on hills and always bloody,
bloody throughout your mythic history
of discovery, war, and conquest.
Twenty-first century versions
of those same huts
still on the same hills,
or perilously hugging your banks
which sometimes you overflow
north and south flooding
their dirty basements
just to show them they might
be a bit too close: back off, you say,
give me some elbow room,
some space to change my course
as you wend your way
down to meet the stuttering
Mississippi, and so on down to dark
and broken New Orleans
where you spread yourself out
upon the vastness of the deep.
from The River and Other Poems by Jack Ramey
As a poet, I am fascinated by the metaphysical, mystical, and metaphorical nature of rivers in general and the Ohio River at Madison in particular.  From my home, high on a hill overlooking the Ohio River and downtown Madison, I am able to experience the daily changes in the relationships and moods of the river.  Our lives are rivers of events and encounters, floods and lulls, twists and turns in the journey to the one-time drop-less sea of eternity.
Featured Photograph:  Ohio River Sunrise by  Bernie Kasper
---