Grafton Street Serenade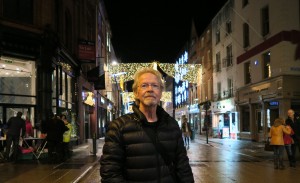 On Grafton Street a legless busker
Begged a tune from his plastic flute
Gazing the while at his missing feet
By Saint Stephen's Green
With the swans and the palms and mist
And the rain and his upturned orange cap
Lying filthy and empty on the street
As Christmas shoppers
Rushed on by towards Dolce & Gabbana.
The ghost of Joyce appeared by his side
And chided him for a no-good boy-o
Stuck here forever, out only for
The price of the odd pint.
But a pint is comfort at least at last
And salvation across the long wet night
Huddled up in a thin worn blanket.
O the buskers and the beggars
On Grafton Street by the high-priced
Gaudy shopping lane with golden lights
Strung all overhead and foreign greed all in the air.
---