Rome II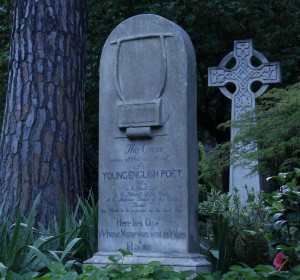 VII
Lay me down in cool salt water.
Lay me down like Noah's daughter.
Lay me down and tell me you miss me.
Lay me down when I'm dead, and kiss me.
In the non-Catholic cemetery in Rome
Close by the pyramid of Cestius
The bones of John Keats lay down in cool
Earth. His words were not writ on water
As it says on his stone, his last request.
Green leaves of ground-cover fill the grave :–
This now resurgent life of his remains. But his
Real remains are writ upon the winds of eternity
Sung over and over lo these last two hundred years
And will be as long as English poetry is remembered.
A small gray cat circles my calves and lays
Him down by Keats' grave. These cats, some say,
Are the ghosts of those buried here, and they
Lay upon the stones and plots as if protecting them
From daemons who would steal their souls or
Their legacies. This gray stays. Is protective.
Abides like all-abiding Death. Makes his bed now
Upon the tripod's canvas case as I recite for camera
And for "the darkling" the great Ode to a Nightingale
And caress with my finger tips the green grass
Of Keats' hair as my tears water the soil of his long-
Gone longing for death and the bliss of final solitude.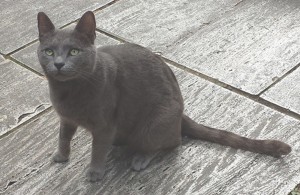 ---