Ghost Road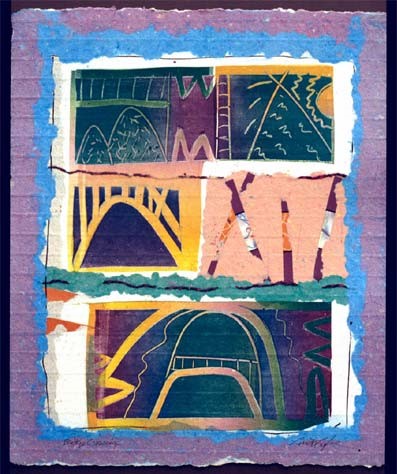 …
Jack Ramey reads Ghost Road.
These passengers are always with me
On my journey down to the sea
Where sailboats list and bob endlessly by the quay.
I do not know them. They do not know me.
We ride together on melting roads each day.
Not speaking. Only sometimes to cry
Out warnings or exclaim aloud our dismay
At the mystery, the misery. Save us they seem to say.
I cannot save them and they
Cannot save me as we drive down broken highways
To reinvent the collapsing superstructure of our dreams.
…
from   Eavesdropping in Plato's Café
Featured Print:  Bridge Crossing  by  Linda Lyke
Arroyo Images:  Bridge Crossing is from a series of prints focused on the contradiction between the densely populated areas that surround the Arroyo and its pristine isolation, illustrating a fragmenting of nature and city.
---