Slow Wind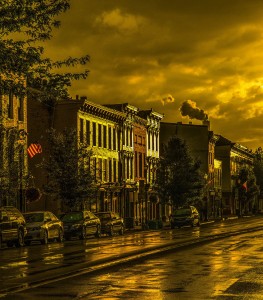 Against dark windows
on the bare-skinned hour
autumn falls.
Bedtime: the baby
skims surfaces, dipping
into the perverse ocean
of humanity–
her bare chest to the raw
flood of destiny
intoned with hurricane blasts
of sound, motion, image;
awareness finally dwindles
and quiet descends
to the tympanic vestibule
where the delicate timbre
of fear
registers.
………………….§
A mess of starlings at twilight
chatters up the bony canopy,
up limbs still poised from the autumn
strip-tease.
Electric lights and computer signals
crimp my thoughts, make them
frenetic and unsettled–
flitting from branch
…………………….to
………………….>….branch–
a constant physics whipped up
by hard-drive hums, password queries,
and lost searches–the forgotten fields
of a user left prodding
and poking into thin air–
the key just hidden by visual illusion…
…………………….a glimmer
………………………………catches my
tiny, obsidian eye
in the background of these sparkling vistas–
a raucous storm of starlings
beats wind into the trees
shaking the perimeter into a sudden cloud
lifting, exploding
across the morning.
………………….§
Departures, arrivals
accumulate like a collection
of ribbons–little strips
torn from memory,
wrinkle-smoothed and torn
at both ends:
wake up, percolate coffee,
knot a tie and drive a while…
then nothing.  A collapsed thread
between here and there.
Classes taught, baths given,
bottles opened–
under the influence of a suspended perception
I collect scraps
wishing for chapters:
matinal fog blurs out
the scattered businesses along the street,
small gaps on Main,
then farmhouses,
carpets of corn
and soybean–a dimmed
but complex landscape
blotted out by the sharp detail
and proximity
of the car's cabin.
……
from Slow Wind
by Joshua Hamilton
published by Finishing Line Press
Featured Photograph:  After the Storm  by  Bernie Kasper
A thunderstorm had blown thru Madison and left that great light you don't see very often – what I like to call storm light. I sat out the storm at home, then walked down to Main Street and waited for the light to shine thru. And low and behold it came out just like I was hoping – Main Street was washed in a warm soft light that added a golden touch to everything it touched. The same image in regular light would have not been very interesting but this light changed everything and added a beautiful dimension to the picture.

---