March, That Classical Month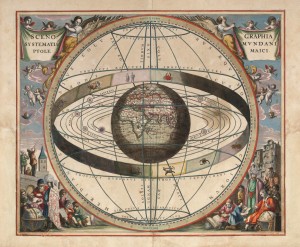 March, that classical month,
sits upon her pillars
supported by the plinth of dying winter
and yearning towards the moony start of spring.
The first of the month
that classical month
where the fish still swims towards the ram
and the longest day of the year awaits the beginning
where Kora will rise from the ground
with flowered crown
to greet her mother and bring
joy to earth's caught creatures.
Ah March, you classical month
you stop in the rush of time
you cusp, you reminder
that all things flow and follow
the still beauty of constancy and renewal
the logic of the turning year
the priceless tale told over and over
with the hope of each returning spring.
.
Featured Art: Cellarius ptolemaic system, by Loon, J. van (Johannes), ca. 1611–1686. National Library of Australia [Public domain], via Wikimedia Commons
---